Living the Dream – Running a Comprehensive Cancer Centre: Alexander Eggermont
As Director General of Europe's premier comprehensive cancer centre, Alexander Eggermont knows a thing or two about focus and determination. Here he describes what it means to get your ideal job, what that job entails and how loving your career could be the key to a happy marriage.
This article appeared in the first edition of our new digital magazine, ESMO Perspectives. You can get the entire edition by just clicking on the button below:
Download the first edition of ESMO Perspectives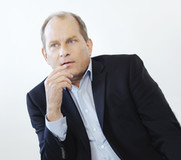 What does your role as Director General involve?
I am responsible for everything that happens in the institute! Luckily for me, I have the support of a great team – including the Deputy Director and Directors of Research and Clinical Research and Medical Affairs – who provide direct operational guidance to the different departments with an incredibly talented medical staff. This means that I can concentrate on my main role, which is to define and develop the institute's strategic direction and find the money to enable us to do it. Part of this involves forming closer links with the University Paris-Sud / Paris-Saclay, the research organisations INSERM and the Centre National de la Recherche Scientifique (CNRS) and with the private world of pharma, biotech, high-tech and other non-academic organisations in order to integrate research programmes. Of key importance is the academic internationalisation of the institute and the creation of the Alliance Cancer Core Europe with DKFZ-NCT in Germany, the Cambridge Cancer Centre in the UK, NKI in The Netherlands, Karolinska Institutet in Sweden and VHIO in Spain. Together we form a virtual Cancer Institute with a one portal system. Gustave Roussy is also valorising its know how by creating satellite institutes, under Gustave Roussy's operational direction, in a number of countries—currently Kuwait and Kazakhstan—to help build infrastructure and train the many talented young specialists who desperately need to acquire new techniques to provide effective care.
You describe your position as living the dream. Can you explain why?
From the outset, I knew I wanted to be a surgeon, but a surgeon who also took part in clinical practice and did a lot of basic research. Researching for a PhD in tumour immunology in Steve Rosenberg's laboratory at the US National Cancer Institute really focused my ambitions and by the time I left there I knew I wanted to set up my own laboratory for oncology research at the Erasmus University Medical Center (Erasmus MC) in Rotterdam, The Netherlands. A small laboratory became a large laboratory and I collaborated widely on a variety of research topics. Once established, I became involved in international collaborative trial development, spending many years at the EORTC, eventually becoming President, before going on to take up the Presidency of ECCO. Over the years, I worked on many interactive projects with Gustave Roussy and always thought of it as a fantastic institute. Then six years ago, I got my dream job of Director General. To me, the position represents the convergence of the broad wealth of experience I have gained up to this point, experience that is invaluable for someone in charge of developing strategy for an institute at the heart of oncology innovation in Europe.
Did you get where you are through a series of carefully planned steps or were there any strokes of luck?
In the end, nobody fares well without luck but equally you cannot waiver in your determination to know exactly where you're going and what it takes to stick it out. So, when I was setting up my laboratory, I realise I was lucky enough to win some good grants. But then, they were well written! However, where I was definitely lucky was in being given freedom by Erasmus MC to follow the research I wanted to and at my own pace. I think this is essential to innovation, but something that many institutes are unwilling, or unable, to provide.
Has your current position taken over your life or are you still able to have a personal life?
When you decide to be a both a clinician and a researcher your work is never finished. If you can't live with this idea, it's not the path for you. In terms of my personal life, I am so lucky in my marriage because my wife has given me all the freedom I need to fully pursue my career. We both love our careers (my wife is a brilliant endocrinologist) and we are fascinated by innovation, so we never run out of things to talk about!
What do you think is the most enjoyable or rewarding aspect of your job?
At Gustave Roussy we have 3,500 employees all aligned around one theme; fighting cancer. Compared with large university medical centres, the institute provides a very special, socially cohesive culture and its smaller size facilitates communication and provides the ideal arena for the research continuum. I also love working with such talented young people, many of whom are opinion leaders, despite being under the age of 45. Given my background, I am particularly excited by the creation of ten physician-researcher posts, in which top research talents will be given the chance to lead a double life in clinical–basic research and to establish their own research programme. I believe that those succeeding will be phenomenally productive and will be a huge asset to the institute.
Enjoyed the article and would like to read more?
You can get the entire edition by just clicking on the button below: