Going Back to Basics to Cure Cancer: an interview with Alberto Bardelli
Drug resistance and tumour heterogeneity limit the effectiveness of current cancer therapies. Cure remains elusive for some cancers because the steps that drive cancer development and progression are poorly understood. These are just two reasons why we need to improve what we know about the basic mechanisms of cancer, argues Alberto Bardelli
An interview with Alberto Bardelli, Department of Oncology, University of Torino, Candiolo Cancer Institute, IRCCs Candiolo, Italy, President Elect of the European Association for Cancer Research (EACR). You can get the entire edition by just clicking on the button below:
Download the first edition of ESMO Perspectives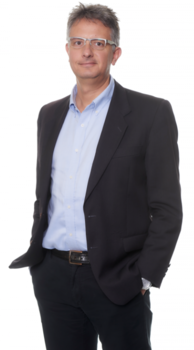 Will we always be at least one step behind cancer?
I don't think so. We know that we can be ahead in some cases, especially when, for example, diagnostic techniques allow us to detect cancer early. But we do lag behind in treatments. Many cancers relapse after an initial, sometimes prolonged, period of response and by the time we have figured out why, the cancer has progressed further.
How quickly do you see our knowledge in basic cancer science improving?
The last 10–15 years have seen a major leap forward in progress in the form of translational oncology, driven largely by our knowledge of the cancer genome. However, with a few exceptions, such as leukaemia, we still can't control most common cancers. And without a better understanding of what drives cancer, I don't think we'll be able to overcome it. For example, over the last decade kinase inhibitors have been developed, which are highly specific for some cancers carrying alterations in protein kinase encoding genes. While these are incredibly effective, they are only transiently functional and we need a better understanding of how resistance develops. A recent major breakthrough—how the immune system controls tumours—stemmed from work on mouse models, and the results are now revolutionising the treatment of some cancers, such as lung and melanoma.
Do you see any difference between the development of resistance to current therapies and novel treatments, such as immunotherapies?
Absolutely. Resistance to targeted therapies is common and, with very few exceptions, all patients who initially respond will relapse. With immunotherapy, however, we are sometimes seeing very long-lasting efficacy results. What is interesting to me is that we have no clear idea why the responses are durable in these patients, and observation and modelling will both be key to understanding the processes involved.
How can we speed up our understanding of what drives cancer?
More than anything, we need new ideas. Money makes a difference, and we can't do anything without financial support, but it's not the major factor. The more we engage the best and the brightest minds, the better we will do.
How can we persuade youngsters to get involved in basic research?
One simple solution is to pay them a competitive salary! But this isn't the only way to interest young people. We need to stimulate them and to make them realise that you don't have to be a clinician to help patients, you can do it equally well as a scientist. We also need to build multidisciplinary teams. When I started out, I was surrounded solely by biologists. Now, research groups contain a diverse mix of individuals, such as medical oncologists, physicists, engineers and mathematicians. I think this is where a lot of discoveries may be made, for example new diagnostic apparatus and drug development.
What phrase best describes how you feel about the progress being made in basic research?
I think of myself as a desperate optimist. I have made good progress so far in my research and I am convinced that we will eventually defeat cancer.
What made you want to get involved in cancer research?
Actually, I fell into it. As a student, I knew I wanted to do science but I wasn't sure what. Then in my last undergraduate year, I happened to get a fellowship that took me to one of the best cancer research laboratories (the Ludwig Institute for Cancer Research) at University College in London, UK. The rest is history.
Outside your research, what other aspects of work are important to you?
I've been a professor for 10 years now and what started out as a chore—lecturing—is now something I very much enjoy. So passing on knowledge and engaging young minds is important to me. I also feel strongly that there is only so much you can achieve in research as an academic; if we are to create new opportunities, we need to think outside of the current models. New mechanisms, new targets and new drugs are needed. Some of these will come from fundamental findings yet to be made.
This article appeared in the December 2016 edition of ESMO Perspectives.
Enjoyed the article and would like to read more?
You can get the entire edition by just clicking on the button below: