Feature: Piecing Together The Melanoma Jigsaw
In less than a decade, melanoma has seen a number of impressive treatment advances that have transformed the outcome of patients with this disease. Teresa Amaral, a medical oncologist from Portugal who is currently investigating the treatment of melanoma in patients with brain metastases as part of her PhD, gives us a glimpse into the fast-moving world of melanoma research.
Download the third edition of ESMO Perspectives

"It's difficult to be brief when describing the amazing findings that have been made in the field of melanoma treatment in recent years. Until 2011, we didn't have many effective treatments to offer our patients. The landscape of melanoma treatment changed completely with the availability of targeted and immunotherapy.
Now, the 45% of patients with metastatic melanoma and a BRAFV600 mutation derive benefit from BRAF and MEK inhibitors, although development of resistance is common.
Immunotherapy really came into its own in melanoma, offering remarkable clinical benefit for both BRAFV600-mutated and wild type disease, with a 5-year overall survival rate of 34% being reported in heavily pretreated patients. Recently, resistance mechanisms to immunotherapy have also been described and understanding resistance development is something that will continue to occupy researchers for some time. Few treatment options are available for patients in the neoadjuvant and adjuvant settings, but the future looks brighter as they are currently being included in targeted and immunotherapy clinical trials. Toxicity with the newer agents is uncharted territory, with profiles being very different to what oncologists were used to with conventional chemotherapy. Therefore, it is necessary to promptly and correctly identify signs and symptoms and initiate treatment.
The progress in therapies we have seen in such a relatively short period of time have revolutionised the way we treat melanoma in the clinic and I have seen the success first-hand, with my patients living longer and enjoying a better quality of life. But I would say that this is not all due to having better drugs; the involvement of multidisciplinary teams and patient advocates has played a significant part in improving the care of my patients.
I think the next big step forward in melanoma treatment will be to define the best ways to combine therapy to improve outcomes: how we can safely and effectively combine and sequence different targeted and immunotherapies, and local and systemic therapies; and how we select the patients who will benefit most from combination therapy and those for whom monotherapy is enough. We also have to understand how long we need to treat for, an area that has important implications for quality of life and also therapy cost, which may be a problem in many countries.
As part of our research, we are looking at ways to characterise immune responses of patients before and after immunotherapy, with a view to describing biomarkers related to response or toxicities. But the area that is my real passion, and the one that forms the main focus of my research at the moment, is the use of therapy combinations in patients with symptomatic brain metastases who are not candidates for local therapy. We know very little about treatment for these types of patients, who are usually excluded from clinical trials and for whom prognosis and quality of life are particularly poor.
To make any notable progress in the study of specific subpopulations of patients with melanoma, multicentre collaboration is an absolute necessity.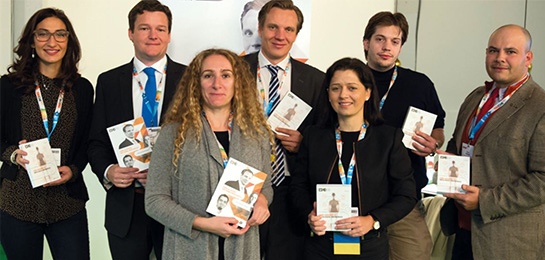 Being a member of the ESMO Young Oncologists Committee has really helped me in this respect, giving me the opportunity to discuss research issues with other committee members who have expertise in different pathologies and those who can point me in the direction of people with whom I can collaborate. Doing the best for all our patients means that we have a duty to investigate treatments for these subgroups of patients with melanoma who would otherwise fall through the net."
Watch ESMO 2016 Video Highlights on Melanoma
Watch ESMO video with Richard Scoyler on Mucosal melanoma: Largest study to date reveals important findings
This article appeared in the June 2017 edition of ESMO Perspectives.
Enjoyed the article and would like to read more?
You can get the entire edition by just clicking on the button below: