Oncology Department, Azienda Sanitaria di Firenze, Bagno a Ripoli
ESMO Designated Centre of Integrated Oncology and Palliative Care
Contact person
Luisa Fioretto, Head of the Oncology Department
Address
SOC Oncologia Medica,
Ospedale Santa Maria Annunziata,
via Antella 58,
50011 Bagno a Ripoli (FI)
Country

Italy

Contact
Phone: +39 055 6936583/6440/6240 - Fax: +39 055 6936282 -

dip(dot)oncologia(at)asf(dot)toscana(dot)it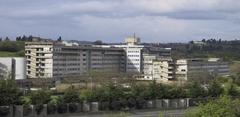 Centre History
The Department of Oncology was instituted in 2001 from the merger of pre-existing units operating in the field of oncology. Today it includes 2 medical oncology units, a radiotherapy unit, 2 pathology units, 3 palliative care units (each offering hospice care in a distinct facility), and a psycho-oncology unit. The department operates within the clinical network of ITT (Istituto Toscano Tumori).
Department Profile
The department operates within the Azienda Sanitaria of Florence which includes 5 hospitals with a catchment area of 800,000 people. The department includes 2 medical oncology units.
Medical oncology unit 1 is located in "S. Maria Annunziata" hospital. It includes the oncological activities of the "S. Maria Nuova", "Serristori" and "Nuovo del Mugello" hospitals, located in the city centre of Florence, and in Figline Valdarno and Borgo San Lorenzo, respectively. In 2012 a second medical oncology unit located in "S. Giovanni di Dio" hospital, in Florence, was created.
The units have a total of 37 beds in a day-hospital setting for diagnosis, staging and treatment of solid and haematological tumours. The oncology department team consists of 19 oncologists, 6 radiotherapists, 8 pathologists, 14 physicians trained in palliative care, 2 psycho-oncologist and 12 psychologists in training, 1 nutritionist.
Areas of Specialisation
Our department is committed to diagnosis, staging and treatment of all cancer patients. It has long-standing experience in treating breast, gastrointestinal, lung, gynaecology, and haematological neoplasms. The department promotes a multidisciplinary approach to cancer thanks to close collaboration among various specialists through multidisciplinary oncology groups (GOM). Across the department a continuous effort is made to the development and implementation of clinical research policies and procedures, and translational research to allow patients to be treated with innovative anti-tumour therapies.
Palliative and Supportive Care
A simultaneous care model for all cancer patients and their families has been implemented since 2009. The palliative care units manage about 1,000 patients at home, with more than 5,000 medical visits, and 450 hospice admissions per year. Since the very first access, the daily presence of a palliative care specialist ("Oltre il ponte" project) and a psycho-oncologist, allows the integration of physical and psychosocial support into cancer diagnosis and treatment.
The palliative care service is available for the patient during cancer treatment, and during the sensitive transition from active antitumoural to end-of-life cares. In this setting oncologists, palliative care specialists, patients and their relatives decide together whether to continue palliative care at home or in hospice.
The palliative care units include a territory network, which provides a high level of home care. Home care is performed in strong integration with the primary care (general practitioner and district nurse). The staff stays in close collaboration with the primary care set goals, draw up an individual care plan specifying the goals and services required for its success, oversee the implementation of the care provision process and the individual care plan.
Caregivers can be trained by the palliative care specialists to effectively provide the prescribed medications and other physical and psychological support that may be needed at home. Medical attention from health facility workers (home visits to support the patient and to assist the caregiver) is available as needed.
For many patients hospice care offers a more dignified and comfortable alternative to home care, providing special treatment to improve quality of life for both the patient and their family. The hospice team develops a care plan tailored to a patient's individual need for pain management and symptom relief, and provides all the necessary palliative drugs and therapies, medical supplies, and equipment. The palliative care units include full-time physicians and nurses, and part-time psychologists and physiotherapists.