Dirk Arnold
Address
Wald Tumor Center University Comprehensive Cancer Center (UCCH)
Hamburg-Eppendorf
Country

Germany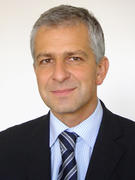 Dirk Arnold is currently the Medical Director of the Hubertus Wald Tumorzentrum – University Cancer Center Hamburg, University Medical Center Hamburg-Eppendorf. Previously, he was the Senior Attending Physician and Leader of the Gastrointestinal Cancer Unit at the Department of Hematology and, Martin Luther University Halle-Wittenberg, Halle, Germany.
He completed his medical degree at the Universities of Ulm and Berlin, Germany, and undertook specialist training primarily at Charité, Humboldt University, Berlin.
Dr Arnold's main research interests include the treatment of gastrointestinal cancers, particularly colorectal, pancreatic and gastric carcinomas, focusing on molecular-targeted therapies, and EGFR and other post-translational signal transduction pathways. Another focus of interest is multimodal treatment of rectal cancer, as well as renal cell and head and neck cancers.
Dr. Arnold was Head of the Clinical Research Unit/Central Clinical Trial Office of the Working Group for Medical Oncology (AIO) in the German Cancer Society (June 2006 – Feb. 2009). He is now the Secretary of the Colorectal Cancer Study Group of the German Association of Medical Oncology (AIO) group and a member of the "Task Force Colorectal Cancer" of the EORTC and is, therefore, involved in many ongoing phase I–III trials in gastrointestinal cancer.
He is a key member of several German and other international cancer societies, including the American Society of Clinical Oncology (ASCO) and the European Society of Medical Oncology (ESMO).
In his function in the German Cancer Society, he is a member of the central board of evaluation of Colon Cancer Centers and was involved in the process of compiling the German treatment guidelines for colorectal cancer.
Dr Arnold has co-authored more than 50 articles in peer-reviewed journals and presented more than 120 abstracts at international/national meetings.