Karin Jordan
Address
Department of Oncology/Haematology
University Hospital
Halle
Country

Germany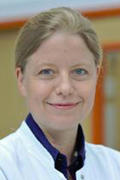 Dr. Karin Jordan graduated from Martin Luther University of Halle-Wittenberg, Germany, after internships in the bone-marrow transplantation program at the University of California, San Diego and, surgery at the University of Newcastle. Following a number of posts at the University Hospital, Halle, and Bernward Hospital, Hildesheim, she was appointed as a specialist in internal medicine and Hematology/Oncology.
Since 2010 she is Associate Professor of Medical Oncology and Supportive Care in the Department of Oncology/Haematology at the University Hospital, Halle. She has been the vice executive director of the ethics committee at the University of Halle since 2009.
Dr Jordan has served as a board member of MASCC/ESMO Antiemetic Guideline Consensus Panel 2009 in Perugia, Italy, and the German Cancer Society Consensus Panel on paravasation induced by cytotoxic agents. She holds the co-chair of Supportive Care study group within the German Society of Medical Oncology (AIO) and is the associate chair of the German Association of Supportive Care in Oncology, Rehabilitation and Social Medicine (ASORS).
Dr. Jordan was also a member of the ESMO Young Oncologist Committee. Since 2015 she is a member of the ESMO Supportive & Palliative Care Faculty Group.
Since 2013 she is the coordinator of the S3 Guidelines on Supportive Care within the Oncology Guideline Program of the German Cancer Society. Since 2014 she is associate editor of Annals of Oncology.
She has authored and co-authored more than 100 publications and her major area of interest is supportive care with a special focus on antiemetic treatment of chemotherapy-induced nausea and vomiting and side effects of new drugs.