Aldo Scarpa
Address
ARC-NET Research Centre for Applied Research on Cancer
Department of Pathology and Diagnostics
University and Hospital Trust of Verona
Verona
Country

Italy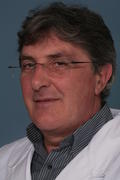 Aldo Scarpa is the Director of the ARC-NET Research Centre for Applied Research on Cancer and Chair of the Department of Pathology and Diagnostics at the University and Hospital Trust of Verona.
Prof. Scarpa received his MD from the University of Padua and his PhD in Human Oncology and Molecular Pathology from the University of Verona. He trained in Japan at the National Cancer Center of Tokyo, at the New York University and La Jolla Cancer Research Center, USA, and at the Nürnberg Universität, Germany. His main research interests are: molecular genetics of tumours; validation, quality control and automation in molecular diagnostics; and molecular and cellular biology of pancreatic tumours.
His work has been published in over 250 peer-reviewed publications. Prof. Scarpa has also participated in the creation of facilities addressing cancer research needs such as biobanks (creation/standardization of processes for cancer/normal biological materials and data sets), cancer models (creation of primary human cancer xenografting facility), and molecular diagnostics (development, standardization, and automation).
Prof. Scarpa was instrumental in the foundation in the early 2000s of the Laboratory of Molecular Diagnostics at the Cancer Centre in Cuenca, Ecuador, fully implemented through the participation of local staff including the ability to write projects to raise funds. He received the honorary citizenship of Cuenca, Ecuador.
Prof. Scarpa's recent achievements include the design, financing, and development of a research centre for the identification and clinical validation of diagnostic/prognostic markers and therapeutic targets in oncology (ARC-NET). He is also responsible for the Italian initiative within the International Cancer Genome Consortium (ICGC) sequencing rare pancreatic tumours and collaborates with Australia on pancreatic ductal carcinoma.