University Hospital Regensburg
ESMO Designated Centre of Integrated Oncology and Palliative Care
Contact person
Jochen Pfirstinger, Dr. med.
Address
Franz-Josef-Strauss-Allee 11
D-93052 Regensburg
Country

Germany

Contact
Tel: +49 941 9445569 -

jochen(dot)pfirstinger(at)klinik(dot)uni-regensburg(dot)de

Web
University Hospital Regensburg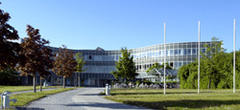 History
The University Hospital Regensburg opened in 1992 and is the only tertiary health care provider in Eastern Bavaria, a region with about 2 Million inhabitants. The main duties are patient care, research and teaching.
Profile
835 beds
3500 highly qualified members of staff (550 medical doctors and 900 nurses)
23 institutions and departments
6 clinical-theoretical institutes
More than 30.000 inpatients / 110.000 outpatients per year
Specialities
The department of Haematology/Medical oncology has two wards with:
24 beds in a special unit for high dose chemotherapy and stem cell transplantation
32 beds for patients, who receive more intense tumour-specific therapies or suffer from complications
Day care unit with 9 seats/beds for less intense tumour-specific therapies, interventions like bone marrow puncture and transfusion of blood products.
More than 150 autologous and allogeneic stem cell transplantations are performed every year. The outpatient clinic administers almost 3000 ambulant chemotherapies.
In 2001 psycho-oncology care with 3 psychologists was established, followed in 2005 by a child centred counselling for parents with cancer and their children.
Palliative and supportive care
In 2007 the department of haematology/medical oncology established a palliative care team for all patients of Regensburg University Hospital, who suffer from a life limiting disease with considerable symptom burden. The team also provides 24 hour home care for palliative care patients within a reach of 20 kilometres around the university hospital.