Tuen Mun Hospital
ESMO Designated Centre of Integrated Oncology and Palliative Care
Contact person
Dr Stewart Tung, Chief of Service, Department of Clinical Oncology
Address
23 Tsing Chung Koon Road
Tuen Mun
New Territories


Country

Hong Kong

Contact
Tel: +852 2468 5087 -

tungys(at)ha(dot)org(dot)hk

Web
Tuen Mun Hospital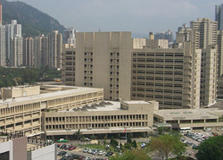 History
Tuen Mun Hospital (TMH), opened in 1990, is an acute regional hospital under the Hospital Authority of Hong Kong with 1,907 beds serving a population of 1.07 million in the north west regions of Hong Kong. It provides in-patient, ambulatory and community care services with a comprehensive range of clinical specialities and allied health services. The hospital is headed by a Hospital Chief Executive and under the Hospital Governing Committee.
Profile
TMH has a total of 54 wards with 1,907 beds. There are 4,845 staff including 502 medical, 1,582 nursing and 476 allied health staff. Oncology and palliative care service is provided by the Department of Clinical Oncology in an integrated approach. The department has 11 clinical oncologists with 7 also qualified in palliative medicine, and 6 residents. There are also 3 medical social workers and 2 clinical psychologists working in the department to provide psychosocial support. The department has around 2,300 new cancer patients each year.
The centre is the first one in Hong Kong to provide a comprehensive oncology service from diagnosis to end-of-life care. The Department of Clinical Oncology adopts an integrated approach in providing radiation oncology, medical oncology, palliative care and hospice service. There are 48 oncology beds and 43 palliative care & hospice beds, including 6 single rooms. Under the department, there is an out-patient clinic, Hospice Day Centre, Ambulatory Chemotherapy Centre, Cancer Patient Resources Centre, Child and Family Bereavement Centre. Radiation oncology facilities include one superficial X-Ray system, four linear accelerators, one linac based radio-surgery system, one integrated remote after loading brachytherapy system and one CT simulator providing high-tech radiotherapy from 3D conformal to intensity modulated and image guidance.
The centre partners with non-government charitable organizations in enhancing psychosocial support to cancer patients through the establishment of the first Maggie's Centre in Hong Kong at TMH.
Specialities
TMH has 17 specialities including Accident & Emergency, Anaesthesiology & Intensive Care, Clinical Oncology, Dental Surgery, Diagnostic Radiology & Nuclear Medicine, ENT, Medicine & Geriatrics, Neurosurgery, Ophthalmology, Orthopaedics & Traumatology, Obstetrics & Gynaecology, Paediatrics & Adolescent Medicine, Pathology, Psychiatry, Mentally-handicapped, Rehabilitation, and Surgery. A full range of allied health services is also provided, including Dietetics, Pharmacy, Physiotherapy, Occupational Therapy, Prosthetic-orthotic Services, Speech Therapy, Audiology, Chiropody, Clinical Psychology and Optometry.
Palliative and supportive care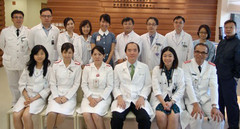 Palliative care service for cancer patients is provided by a multi-disciplinary team comprising palliative care specialists, nurses, clinical psychologists, social workers, dieticians, physiotherapists, occupational therapists, chaplains and volunteers. The service includes out-patient clinics, in-patient care, day care, home care and bereavement. There are also dedicated clinics and programmes to deal with specific symptoms such as breaking bad news clinic, pain clinic, ascites clinic, lymphedema programme, Cancer Pain Care Pathway, Integrated Patient Care Pathway for brain metastasis, End-of-life Care Pathway, and the Child and Family Bereavement programme. Patients will also have access to traditional Chinese medicine for symptom control.