The Crown Princess Mary Cancer Centre Westmead
ESMO Designated Centre of Integrated Oncology and Palliative Care
Contact person
Prof Paul Harnett, Director
Address
Cnr Hawkesbury and Darcy Rds
Westmead 2145 NSW

Country

Australia

Contact
Tel: +61-2-9845 6432 -

paul(dot)harnett(at)sydney(dot)edu(dot)au

Web
The Crown Princess Mary Cancer Centre Westmead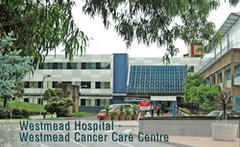 History
The Crown Princess Mary Cancer Centre, Westmead is co-located in Westmead Hospital, a specialised tertiary referral hospital with over 800 beds. The Cancer Centre was completed in 2008 at a cost of $17.64M. It is an integrated comprehensive centre serving a population of over 1 million in the West of Sydney with a multidisciplinary approach to the treatment of cancer, palliative care and haematology blood disorders.
Profile
The Centre has a staff of 267 and includes 30 chemotherapy chairs with acute care beds and procedure rooms, 30 specialised clinic rooms, 4 linear accelerators, apheresis, high dose brachytherapy suite, specialist psychosocial support, clinical trials unit, family cancer service and world class laboratory cancer research in melanoma, breast cancer, leukaemia, and ovarian cancer.
Specialities
Familial Cancer and genetic testing
Gynaecological Oncology
Haematology & Bone Marrow Transplant
Medical Oncology
Palliative Care
Psycho Oncology
Radiation Oncology
Surgical Oncology
Translational Oncology
Palliative and supportive care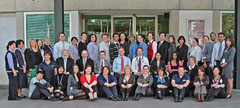 The palliative care service is supported by 3 palliative care physicians and a clinical nurse consultant. The dedicated 8 bed Palliative Care and Symptom Control Unit is staffed by palliative care physicians, advanced palliative care trainee, medical registrar, intern, specialist palliative care nursing, allied health, pastoral care and volunteer members. There is a vibrant consultation service within Westmead Hospital with over 600 consultations each year, multiple palliative care and joint multidisciplinary clinics and a strong association with the community service.