Sarawak General Hospital
ESMO Designated Centre of Integrated Oncology and Palliative Care
Contact person
Dr. C.R.Beena Devi, Senior Consultant Clinical Oncologist and Palliative Care Physician
Address
Jalan Hospital
Kuching
Sarawak
Country

Malaysia

Contact
Tel: +6082 276666 -

beenadevicr(at)gmail(dot)com

Web
Sarawak General Hospital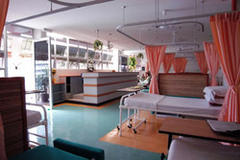 History
The Sarawak General hospital is a tertiary centre of care and the department of Radiotherapy, Oncology and Palliative Care Unit, founded in 1985. It is the only government oncology centre in East Malaysia serving a population of 2.3 million.
Profile
Five wards for in-patient care
A total of 130 beds (no private beds)
152 full time staff
Facilities include: out-patient clinic for oncology and palliative care consultations, day chemotherapy, review clinic for patients undergoing radiotherapy/chemotherapy and pain management clinic
Technical equipment/facilities: Three linear accelerators, one with IMRT facility, two treatment planning system, one HDR brachytherapy, one CT Simulator and one Conventional simulator
Radiotherapy treatment including brachytherapy, chemotherapy, targeted therapy, hormonal therapy, palliative care, pain management complemented with massage, day care procedures, and counselling
We conduct Phase 2 and 3 clinical trials, epidemiology and clinical research in collaboration with IARC, WHO, IAEA, FNCA, INCTR
We have started aromatherapy as complementary to pain management and relaxation. In addition we provide occupational therapy and physiotherapy to our patients
Specialities
Clinical service, teaching and research form the main core of work. The department provides treatment for all types of cancer, pain management and specializes in public health, epidemiology, clinical and palliative care research.
Palliative and supportive care
Our Palliative care service began in 1994 with inpatient care as well as home care service for the whole state. Our first objective was pain management and control of symptoms. Currently, we are developing patient well being projects (psychological and spiritual support, massage, aromatherapy, art & craft therapy, etc). We have 16 beds for palliative care, 8 for acute care and 8 for chronic care. In addition, we provide respite care and free-loan of equipment for home use. Since 1994, we have on-going palliative care training for all staff of the state of Sarawak. We conduct research on various aspects of palliative care.