Royal Adelaide Hospital Cancer Centre
ESMO Designated Centre of Integrated Oncology and Palliative Care
Contact person
Dr. Sid Selva-Nayagam
Address
Mail DP 11, North Terrace
Adelaide SA 5000
Country

Australia

Contact
Tel: +61 8 8222 5577 -

Sid(dot)selva(at)health(dot)sa(dot)gov(dot)au

Web
Royal Adelaide Cancer Centre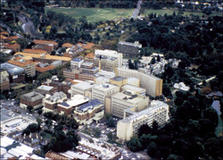 History
The RAHCC was created in the early 1980's with the role of providing all South Austrialians with the world's best cancer care, underpinned by excellence in research and teaching.
Profile
500 part-time and full-time staff
Training available in conjunction with the Royal Australian College of Physicians and Medical Oncology Group of Australia
Specialities
Medical Oncology, Palliative Care, Radiation Oncology, Breast Endocrine, Surgical Oncology, Haematology, Prostate LDR Brachytherapy, Prostate HDR Brachytherapy, HDR (Mammosite)
Palliative and supportive care
Palliative Care continues to provide a rural outreach programme as well as an extensive outreach programme throughout Adelaide. Palliative Care Medicine has been recognized as a speciality along with the convergence of the FRACP/FAChPM. The collaboration with Mary Potter Hospice and Calvary Health Care has enabled palliative care to be delivered through three main settings: community outreach, hospital in-patient consultation and a hospice.
The multidisciplinary palliative care service is provided by oncologists and nurses qualified in palliative care, social workers and clinical psychologists.