Kliniken Essen-Mitte
ESMO Designated Centre of Integrated Oncology and Palliative Care
Contact person
Prof Dr. Michael Stahl
Address
Henricistrasse 40
45136 Essen
Country

Germany

Contact
Tel: +49 201 174 24001 -

M(dot)Stahl(at)kliniken-essen-mitte(dot)de

Web
Kliniken Essen-Mitte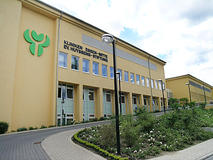 History
The Kliniken Essen-Mitte has been founded in 1854 as the first Protestant hospital in Essen, at that time a center for coal mining and steal industry. Today it is a modern teaching hospital of the University of Duisburg-Essen still bound to the Christian principles. It provides 687 beds, four day-clinics within 12 faculties.
Profile
The German Center for Interdisciplinary Regional Therapy (320 interventions/y) belongs to the oncology department as well as the Center for Palliative Medicine and Pain Therapy. Furthermore, there is a close contractual cooperation with the outpatient cancer center (Ambulantes Tumorzentrum Essen) on the ground of the Kliniken Essen-Mitte comprising an institute for radiotherapy, oncology, and radiodiagnostics and nuclear medicine.
The department has two medical and 6 assistant medical directors, 15 medical assistants, a therapeutic team including 63 nurses.
Specialities
The Department for Medical Oncology has a focus in gastrointestinal and lung cancer. There is a close and structured cooperation with Departments for Senology and Gynecologic Oncology, the Department for Integrative Medicine and the Department for Visceral Surgery with Minimal Invasive Surgery. The integration of palliative care into day to day work as well as in scientific efforts plays a major role.
Palliative and supportive care
The Centres PC departmentcomprises one ward with 10 beds (360 cases/y), outpatient facilities on a day clinic basis (660 cases/y) as well as fully recovered specialized outpatient palliative care service (SAPV) for outpatients and their relatives. For patients still receiving active cancer therapy specializied palliative care is offered on the oncology ward both via the shared therapeutic team and the nurses as well as those physicians of the ward who graduated both in medical oncology and palliative care. A volunteers group completed the palliative care service. In order to provide high standard and accredited education an Academy for Palliative Care and Hospice Work is allocated at the PC department, which offers a broad spectrum of teaching activities, working groups and discussion forums, For more info, click here.