Klinik für Onkologie und Hämatologie, Krankenhaus Nordwest
ESMO Designated Centre of Integrated Oncology and Palliative Care
Contact person
Prof. Dr. med. Elke Jäger
Address
Steinbacher Hohl 2-26
60488 Frankfurt am Main
Country

Germany

Contact
Tel: +49 (0)69 7601 3340 -

jaeger(dot)elke(at)khnw(dot)de

Web
Krankenhaus Nordwest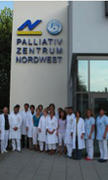 History
The department of oncology and haematology at Krankenhaus Nordwest in Frankfurt am Main, Germany, was founded in 1992. Since then, there had been an enormous expansion of the centre from 30 to 100 beds. Professor Dr. Elke Jäger is the head of the department since 2003.
Profile
The department of oncology and haematology at Krankenhaus Nordwest has the capacity of a 100 hospitalized patients. In the outpatient department, approx. 80 patients are seen on average per working day. An additional day care unit has an average of 20 patients per working day. All tumour entities and haematological diseases at any stage of disease are treated. Any kind of standard and high dose chemotherapy, immunotherapy (including antibodies and vaccines), blood and stem cell transfusions are administered. A clinical trials centre coordinates more than 50 trials offering experimental treatment options to the patients. Five attending physicians are each specialised in certain tumour entities.A special palliative care unit including in- and outpatient care has existed since 2007.
Another focus of Professor Jäger is tumour-immunological research. Clinical studies, e.g. to investigate the effects of physical activity on the immune system and on the quality of life are specifically offered to advanced cancer patients.
Specialities
The general philosophy of the centre is to provide individual care for all patients regardless of their palliative or curative treatment status. In addition to regular oncological-haematological therapy, an interdisciplinary team of defined specialists offers an integrated concept of care to each patient: Analgesic treatment, nutritional support, psychological care, pastoral services and physical treatment if indicated and/or wished.
Especially palliative care patients are offered to participate in a sports programme. In cooperation with the "Stiftung Leben mit Krebs", patients will have a spiroergometric test to assess their fitness level and may then join three different sports group per week (rowing, Nordic-walking and strength training). Bedridden patients are visited by fitness trainers and physiotherapists to maintain physical and mental strength.
Palliative and supportive care
The centre has a special palliative care ward for 10 patients. In this ward, patients can be accompanied by their family members' 24hrs; a kitchen and a special area for related children are provided. A music therapist is part of the professional team in this ward. Patients may also be accompanied by their pets.
If patients prefer home care, an ambulatory service provided by a team of physicians and nurses specialised in palliative medicine and care, visit patients at least weekly and are available on demand 24h/day (SAPV=specialised ambulatory palliative care). All professionals involved, such as physicians, nurses, case manager, social workers, psychologists, pastors and hospice care workers, also have close contact to the patient´s family, home doctor and ambulatory services. Patients, as well as their family members, may contact the respective specialist daily. The individual concept of providing palliative care for each patient is discussed with the members of the palliative care team regularly, at least on a weekly base to provide maximum quality in individual palliative care.