Istituto Oncologico Veneto - I.R.C.C.S.
ESMO Designated Centre of Integrated Oncology and Palliative Care
Contact person
Dr. Vittorina Zagonel, MD – Head of Medical Oncology Unit 1
Address
Division of Medical Oncology 1
Via Gattamelata 64
35128 Padova
Country

Italy

Contact
Tel: +39 0498215953 / 5910 -

vittorina(dot)zagonel(at)ioveneto(dot)it

Web
Istituto Oncologico Veneto-I.R.C.C.S.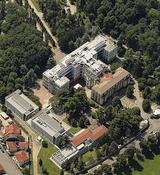 History
Istituto Oncologico Veneto (IOV) is a comprehensive cancer centre established in 2005, in consortium with the Hospital of the University of Padua, School of Medicine. IOV offers preventive, curative and palliative services to the population and improve medical knowledge through translational research.
The IOV is part of the Italian network of Cancer Institutes (Alliance Against Cancer), including the Italian Cancer Centres under the patronage of the Istituto Superiore di Sanità in Rome. IOV is also a member of the Organisation of European Cancer Centres (OECI).
Profile
The mission of the Unit of Clinical Oncology 1 is to carry out diagnosis and treatment of solid tumours in adult and senior patients, through multidisciplinary approaches involving surgeons, radiation oncologists, radiologists, pathologists, molecular biologists, geriatricians and different specialists. The principal aim is taking care of patients diagnosed with cancer, with special attention to all the needs of the person in order to have the best results for both cancer treatment and quality of life.
In this perspective, the effort of the Unit is to guarantee integration of the clinical interventions, together with implementation of clinical and translational research to allow patients to be treated with innovative antitumour therapies, as well as with supportive and palliative care. An important task of the Division of Clinical Oncology 1 is the formation of Clinical Oncology fellows, in the fields of antitumour treatment, supportive and palliative care.
The Units comprise a day hospital with 32 positions; Medical oncology Unit 1 ward has 13 inpatient beds (two beds for palliative care). Medical Oncology 1 assists about 1350 new cancer patients per year. Oncology Unit 1 is involved in several national and international clinical trials. Palliative care service works closely with medical oncology staff.
Specialities
Our Cancer Centre offers multidisciplinary care to patients within each of the core disease specific areas through comprehensive collaboration between our specialists.
The Institute includes six Departments:
Clinical Oncology: clinical oncology 1, clinical oncology 2, evaluation and introduction of new drugs in cancer therapy
Surgery: surgical oncology, beast surgery, melanoma and soft tissue tumours, diagnostic and operative endoscopy, anaesthesiology
Imaging, Radiology and Pathology: radiology, interventional radiology, breast imaging, pathology
Radiotherapy and Nuclear Medicine: radiotherapy and nuclear medicine, medical physics
Experimental and Translational Oncology: immunology and molecular oncology, hereditary endocrine cancer unit
Services: palliative care unit, psychological oncology unit, nutrition service, cardiology, pharmacy
Palliative and supportive care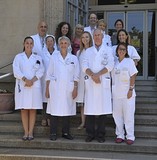 Oncologists and Palliative care specialists work closely, to offer "disease and symptoms-oriented" treatments to patient (and family) in all the phases of illness, staffed by an interdisciplinary team of specialists such as oncology surgeons, interventional radiologists, radiation therapists, anesthesiologists, nurses, psychologists, pharmacists, social workers, physical therapists, dieticians, spiritual care providers and administrative staff, all working together to respond to patients' needs. The activities of the Palliative Care Unit are directed both in favour of outpatients and inpatients. The Palliative Care Unit is present in the Oncology Day Hospital, offering care, support and respite during the day to patients. The in-patient palliative care unit is part of the Oncology Department hospital, where the patients can be admitted for symptom management (physical or psychosocial), terminal care, and for deciding the most appropriate palliative care programme. All the clinical nurses of medical Oncology Department are prepared to manage the physical and psychosocial needs of patients and their families. Medical Oncology 1 is dedicated in assisting patients suffering from a life-limiting illness. Medical assistance and nursing care is provided 12h/day for 5 days at week, in collaboration with the Palliative Care Unit. During the week-end, patients can directly call the Oncology Unit ward where an oncologist is always present on call. Hospital admission can be provided anytime when needed.