Institut de Cancérologie de l'Ouest
ESMO Designated Centre of Integrated Oncology and Palliative Care
Contact person
Prof. François Régis Bataille
Address
2 rue Moll 

Angers
Cedex 9
Pays de la Loire 49933

Country

France

Contact
Phone: +33 (0)2 40 67 99 87 -

francois-regis(dot)bataille(at)ico(dot)unicancer(dot)fr

Web
Institut de Cancérologie de l'Ouest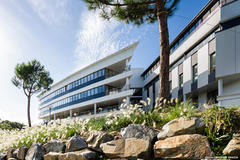 Centre history
The Institut de Cancérologie de l'Ouest (ICO) is a comprehensive cancer centre with two sites located in Angers and Nantes.
It was created in January 2011 from the fusion of two regional cancer centres: the Paul Papin centre (created in 1925) and the René Gauducheau centre (created in 1924).

 Around 1200 people and 160 physicians work at ICO.


The ICO belongs to the UNICANCER group which federates 18 cancer centres in France. 

Each site is adjacent to a University Hospital with which it has had a close relationship.


In 2012, 97,000 medical consultations, 10,200 hospitalisations, 27,500 chemotherapy cycles, 90,000 radiotherapy sessions and 7,002 surgical procedures were carried out at ICO.

 ICO was certified by the French health authorities in 2009 (Angers) and 2011 (Nantes).
Department profile
The Medical Oncology department is managed as a single department for the two sites, with a head of department and a coordinator. 

It includes about 32 medical oncologists, general practitioners, psychiatrists, clinician nurses and some students, plus clinical psychologists, physiotherapists, dieteticians.
The department includes several sectors: consulting, conventional hospitalisation, day hospital, clinical research, ambulatory setting, outpatient and homecare.

 This multidisciplinary approach is also applicable to other services at ICO: surgery, radiotherapy, and throughout the care of patients.


ICO also has fundamental and clinical research and oncology teaching duties.

 All types of adult cancers are treated by the department.
Areas of specialisation
All types of adult cancers are treated, the primary tumor sites are breast cancers, digestive cancers, gynecological cancers, urological cancers, lung, lymphoma, leukemia...


The Medical Oncology department is committed to offering each patient a care pathway including therapeutic innovation. Many randomised phase II and III trials are available at each stage of the disease. Moreover, a clinical research unit is dedicated (8 beds) for phase I and early phase II trials.
This unit is labelled by the National Cancer Institut (INCA). In 2012, over 100 patients were included in personalised medicine trials requiring molecular screenings. Phase I trials accounts for 32% of all new trials conducted in the clinical research unit. Consequently, close collaborations are established with the cancer research units of the centre to provide translational research programmes.
Palliative and supportive care
At each site, the Medical Oncology department includes a supportive care unit.

 These units include: pain management, palliative care, psycho-oncology, nutrition, social workers and physiotherapists. All these professionals can be required either by oncologists, nurses, patients or family members or general practitioners.


A supportive care programme is offered to all patients from initial consultation and throughout the course of the disease. Every health professional is given brief initial training in supportive care to help them detect and respond to patients' needs or requests.
All professionals of palliative and supportive care unit can be required either by oncologists, nurses, patients or family members or general practitioners.

 Pain, psychological distress, other physical and psychological symptoms, are regularly assessed (scales), treated and followed up. The needs of patients' relatives are also taken into account

. General practitioners and home professionals are also involved

, while spiritual support is organised with respect to the major religions.