Comprehensive Cancer Centre
ESMO Designated Centre of Integrated Oncology and Palliative Care
Contact person
Dr Zhulieta Tsolova MD, Manager of the Comprehensive Cancer Centre - Vratsa
Address
Boulevard "Vtori Juni" # 68
Vratsa 3000
Country

Bulgaria

Contact
Tel: +359878444513 -

mdozs_vratza(at)abv(dot)bg

Web
Comprehensive Care Centre - Vratsa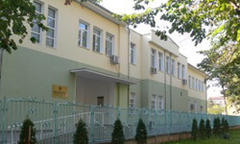 History
The Comprehensive Cancer Centre – Vratsa (CCC - Vratsa) is the successor of the Inter-regional Cancer Dispensary – Vratsa founded in 1951. It provides diagnostics, anticancer treatment and after treatment follow up of adult cancer patients with solid tumours from the Northwest Bulgaria districts – Vratsa, Montana and Vidin. Almost 9,000 patients were treated in the inpatient unit of the CCC- Vratsa and 43,273 patients visited the outpatient unit in 2010.
Profile
The structure of CCC-Vratsa is an inpatient unit with the following departments: surgery and urology, gynaecology, gastroenterology, chemotherapy, radiology, ICU, palliative care, diagnostic unit with X-ray department, clinical pathology, nuclear medicine, Regional cancer statistics.
The outpatient consulting unit is structured by consulting cabinets – surgery, urology, gynaecology, radiotherapy, palliative care and cancer pain, gastroenterology and chemotherapy. In 2010 the "Centre for rehabilitation and support of cancer patients and their families" was established as part of the palliative care department.
The CCC – Vratsa has 160 hospital beds. The palliative care department has 15 beds and in each of the other therapeutic departments at least two beds may be used in the case of palliative needs.
There are a total of 177 staff at the CCC, of which 34 are physicians, 87 nurses, psychologists, social workers, legal consultant and other personnel.
In the surgical sector of CCC (surgery, urology and gynaecology) all types of surgical interventions are preformed except thoracic and neurosurgical operations. The surgical sector is a pioneer in endoscopic surgery for the Northwest Bulgaria. The gastroenterology department perform all kinds of endoscopic treatment of tumours of the GI tract and radiofrequency ablation of the tumours of the parenchymal organs. Treatment of cancer pain is performed in the palliative care department. Chemo and radiotherapy are performed in the medical oncology and radiology departments. All kinds of modern investigations are performed in the X-ray department, department of nuclear medicine and department of clinical pathology. The Regional cancer register provides all necessary statistical information concerning medical condition and treatment of the patients from the Northwest part of the country. The hospital pharmacy deliver the necessary medication including opioids for the in and out patients. Many clinical trials are performed and are on going at CCC-Vratsa. The hospital closely collaborates with European palliative research network. Telemedicine is well established in the hospital which is also a training ground for the students of Medical College – Vratsa in the fields of oncology and palliative medicine.
CCC- Vratsa provides all kinds of modern diagnostics and anticancer treatments, after treatment patient's follow up, supportive and palliative treatments, rehabilitation, psychological, social, spiritual and legal support for adult cancer patients and their families from Northwest Bulgaria in the trajectory of illness. CCC – Vratsa actively works in cancer prevention and early diagnosis of cancer. It provides research in the field of oncology, and collects necessary statistical data concerning cancer incidence and treatment for the population of Northwest Bulgaria. CCC-Vratsa provides opportunities for consulting patients and medical institutions in the fields of oncology in place and by using the opportunities offered by telemedicine.
CCC – Vratsa is equipped with modern diagnostic facilities such as MRI, CT, Gamma scan, Ultrasound equipment, endoscopic diagnostic equipment, equipment for endoscopic surgery, well equipped ICU and operating theatre according latest national standards, equipment for radiofrequency ablation, All necessary equipment for patient's support as vehicles for patients' transport. The hospital also provides and has 24/7 broad band internet access.
CCC – Vratsa was accredited by the National Accreditation Commission of the Bulgarian Ministry of Health in 2009 and by ISO 9001:2008 by Moody International.
Specialities
CCC-Vratsa operates in the following medical specialities: surgery, medical oncology, radiation therapy, urology, gastroenterology, obstetrics and gynaecology, anaesthesiology and intensive care, diagnostic imaging, general and clinical pathology, nuclear medicine and medical psychology.
Palliative and supportive care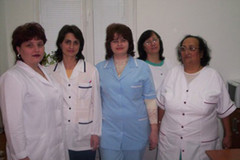 Palliative care department of the CCC- Vratsa was established in 1998 and is the first hospital based palliative care facility in Bulgaria. The development the Palliative care department is a continuation of the first cabinet for treatment of cancer pain in Bulgaria founded in 1996. Now the department has 15 beds for inpatients and outpatient consulting unit – as well as cabinet for treatment of cancer pain and established in 2010 a "Centre for rehabilitation and support of cancer patients and their families". The team of the department consists of a leading physician specialized in anaesthesiology and palliative care and pain control, oncologists, radiologists, surgeons, neurologists, psychiatrists, medical psychologist, nurses, social worker, legal consultant, Bulgarian orthodox priest and volunteers.