Pilar Lianes
ESMO National Representative in Spain
Term
2014 – 2015
Address
Hospital de Mataro Consorcio Sanitario del Maresme
Cra de Cirera s/n, Mataro
Barcelona
Country

Spain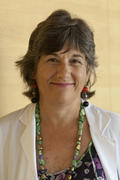 Pilar Lianes Barragan MD, PhD is Head of Oncology at the Hospital de Mataro, Consorcio Sanitario del Maresme.
She graduated in medicine in 1982 from the University of Madrid and from 1982 to 1986 was resident of internal medicine and Oncology at Fundacion Jimenez Diaz in Madrid.
From 1987 to 2000 she was Attending Physician, Division of Medical Oncology, Hospital Universitario "12 Octubre" in Madrid.
In 1991 Dr. Lianes earned her PhD from the University of Madrid. Between 1992 and 1994 she was a postdoctoral research fellow, Molecular Biology Program, Memorial Sloan Kettering Cancer Center (New York) in USA.
Since 1987 she has been working at the European Organization for Research and Treatment of Cancer – Lung Cancer Group.
From 2000 to 2004 she was the Sub-chair of the chemotherapy section on the European Organisation for Research and Treatment of Cancer – Lung Cancer Group.
During her career she has been very motivated on: translational research, young oncologist training, multidisciplinary and holistic approach to cancer patients
Nowadays belongs to the national representative Spanish society executive committee
Dr. Lianes has over fifty publications and book chapters in the field of medical oncology and chemotherapy with particular emphasis in lung cancer, bladder cancer and germ cell tumors.
She is a member of national and international oncology societies.