Everett E. Vokes
ESMO National Representative in USA
Term
2015 – 2016
Address
University of Chicago
5841 South Maryland Avenue
MC 6092
Chicago IL 60637-1470
Country

United States of America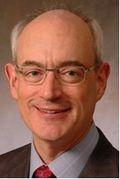 Everett E. Vokes, MD, the John E. Ultmann Professor of Medicine, Chair of Department of Medicine, and Physician in Chief at the University of Chicago Medical Centre, is an internationally renowned expert in the treatment of head and neck cancer. Dr. Vokes served as the Chief of the Section of Haematology/Oncology for 11 years during which time he led the Section to the national prominence it enjoys today as one of the top cancer programmes in the country. His has also pioneered the combined use of chemotherapy, radiation and surgery that has resulted in extraordinary advances in the treatment of head and neck cancer, and lung cancer. In early 2009, Dr. Vokes was appointed as Chair of the Department of Medicine a position he held for just seven months before being named as Interim Dean and Chief Executive Officer, Division of the Biological Sciences and the Pritzker School of Medicine on October 1, 2009. On October 1, 2010, Dr. Vokes returned to his role as Chair, Department of Medicine at the University of Chicago. In December, 2010 Dr. Vokes was named as Physician in Chief at the University of Chicago Medical Centre.
Dr. Vokes was born in New York City and educated in West Germany, receiving his medical degree from the University of Bonn Medical School. He served his residency in Internal Medicine at Ravenswood Hospital Medical Center in Chicago and at the University of Southern California in Los Angeles. During this time, Dr. Vokes recognised that systemic therapies could have an effect on cancers. He found it incredibly exciting that oncologists did not always have to use surgery or radiation that intravenous therapies could be given to a patient for treatment to prolong life or result in cure if added to radiotherapy. Out of that realisation grew a goal to focus on researching these developments in cancer care. Dr. Vokes arrived at the University of Chicago as a fellow in Haematology/ Oncology in 1983. Upon completion of his fellowship training, he remained on the faculty, and was promoted to Professor in 1995. In 1998, he was named as the John E. Ultmann Professor of Medicine. In 2005 he was named as Vice Chair for Clinical Research in the DOM.
Dr. Vokes has had a prominent career in clinical and translational research that has helped define commonly used treatment regimens. His work has shown that intense treatment combining radiation and chemotherapy can bring locally advanced head and neck cancer under control and improve survival His research in lung cancer is directed at identifying new active therapeutic agents, as well as the interaction of chemotherapy and radiation therapy. Dr. Vokes has authored or co-authored more than 450 papers and 80 book chapters.
In recognition of his outstanding work, Dr. Vokes has received many awards and has led many professional groups in the field of haematology/oncology. Dr. Vokes is an elected member of the prestigious American Society of Clinical Investigation and American Association of Professors .He has earned recognition on numerous "best doctor" lists and as one of the first awardees of American Society of Clinical Oncology s Translational Research Professorship. Dr. Vokes has served principal investigator of the University of Chicago's National Cancer Institute Phase II programme, supporting numerous phase II studies of novel agents in a network of institutions throughout the Midwest and as the Deputy Director of the University's Comprehensive Cancer Centre. He has served on numerous advisory committees and review panels. He is a longstanding member of several editorial boards including the Journal of Clinical Oncology, Annals of Clinical Lung Cancer, Investigational New Drugs, and the Annals of Oncology, where he currently serves as Associate Editor. Dr. Vokes has engaged in multiple international activities and conferences and has lectured extensively in throughout Europe and Asia.
The body of Dr. Vokes work not only includes extraordinary research and clinical care but also mentoring the next generation of translational oncologists. His innovative approach to cancer care has been inspiring to young trainees interested in understanding how research can make a difference for patients and lead to positive effect on patient outcomes.

Dr. Vokes is married to Dr. Tamara Vokes, an endocrinologist who specialises in the treatment of health problems related to the endocrine system. They have two daughters.