Alketa Ymeri
ESMO National Representative in Albania
Term
2014 – 2015
Address
Mother Teresa Hospital
Rr e Dibres 370
1000 Tirana
Country

Albania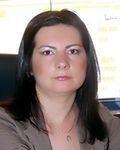 Dr. Alketa Ymeri was born in Pogradec, Albania and studied medicine from 1989 to 1994 at the Faculty of Medicine, Tirana – Albania, then she was trained in Medical Oncology at the Oncology Service Tirana, where she graduated as a medical oncologist.
Her main field of work is Breast, Lung and Ovarian Cancer, and her main interest is improving on chemotherapy regimen and introducing them in clinical practice.
Dr. Alketa Ymeri has published several articles on new treatment in Breast and Lung Cancer. She is a member of the European Society for Medical Oncology (ESMO), Albanian Oncology Association and the Kosova Oncology Association.