New Publications from ESMO Launching at ECC 2013
We are excited to be launching several new publications during ECC 2013.
Hard copies of the publications can be collected from the ESMO booth and from various locations throughout the exhibition hall, and all of them will be available to download from this website or from the ESMO App either now or in the very near future.
ESMO Clinical Practice Guidelines – Annals of Oncology supplement
In 2013 we have published 20 ESMO Clinical Practice Guidelines including our first guidelines on Penile Cancer, Gestational trophoblastic disease and Waldenstrom's macroglobulinaemia.
Pick up your copy from the ESMO Booth or in the ESMO Members' Lounge.
2013 guidelines will be available for download from the afternoon of Friday 27 September 2013 from the Guidelines section of this website.
ESMO Members entitled to print copies of the Annals of Oncology – you will receive your supplement shortly.
ESMO Pocket Guidelines 2013
We're adding four new titles this year to our popular Pocket Guidelines series, along with three updated versions. Collect your copies from the booths listed below:
Breast Cancer – ESMO, Booth 3450
Gynaecological Malignancies – PharmaMar, Booth 3395
Head & Neck Cancer – mobile app only
Lower Gastrointestinal Cancers – Bayer, Booth 1500
Lung Cancer – Lilly, Booth 3399
Upper Gastrointestinal Cancers – Lilly, Booth 3399
Urogenital Cancer – Janssen, Booth 4600/4610
2013 Pocket Guidelines will also be available on the ESMO Guidelines App.
ESMO Spotlights 2013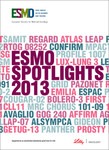 ESMO Spotlights "A Selection of Important Studies" is a concise overview of the facts that have made an impact in cancer research and practice.
The package contains tailor-made presentations of cutting-edge scientific studies which have been reviewed, interpreted and distilled, by leading experts within their field; offering the most significant oncology information presented over the last 12 months.
ESMO Spotlights are available on CD and can be collected from the Lilly Oncology Booth.
ESMO Handbook on Cancer Treatment in Special Clinical Situations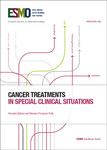 The 2013 ESMO Handbook on Cancer Treatment in Special Clinical Situations addresses situations which require modification of standard practice.
The aim of this book is to help physicians treat cancer patients in special medical as well as personal situations, where it is difficult to obtain the necessary information through a quick bibliographic search.
Copies are available at the ESMO Booth for ESMO members or new joiners.
User's Manual for Oncology Clinicians
This manual presents "Clinician's notes" for each of the 16 chapters of the patient guide.
These notes will help contextualise the material presented to your patients will give you suggestions on how to make the best use of the materials shown in each chapter – providing you with a helpful tool for discussing both basic and more complex and challenging issues that are experienced by your patients and their families.
Pick up your copy from the ESMO Booth or in the ESMO Members' Lounge.
ESMO Personalised Cancer Medicine Guide for Patients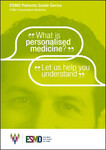 This guide for patients has been created to assist patients, their family members and friends to better understand the factors that may influence the personalised approach to the prevention, diagnosis and treatment of cancer.
Copies will be available from the ESMO Members' Lounge and the ESMO Booth.