Interview with Erika Martinelli
Interview with Erika Martinelli, ESMO Young Oncologists Committee member, describing her fascinating experience and the benefits of ESMO fellowships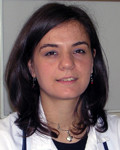 You are an active member of the ESMO Young Oncologists Committee (YOC); actually all members seem to be very active... How is this possible? You're a full-time employed medical oncologist, seeing patients, in some cases doing research; and also a mother of two. What is it that makes you feel so committed, enthusiastic, active and productive?
I have been a member of the ESMO YOC since April 2010 and from the very beginning I have found them to be an active and motivated group of young people from different European countries. During our meetings we always engage in stimulating discussions on the many projects we are developing and we help each other to carry them out. This attitude is really constructive and helps to create a friendly and encouraging environment that in turn reinforces our participation in all the YOC activities. Basically it is a virtuous circle, so quite easy to see the reason why we are ready to dedicate time and resources to this on top of other professional responsibilities.
I consider myself a very lucky person because my working life is complete and diversified: I visit patients in the hospital and I also have a "protected space" fully dedicated to research, when I work in the lab. This is crucial for me: every day I feel my commitment to oncology as a challenge and this makes me so enthusiastic and passionate, despite dealing with a tough topic. When my day ends, I get recharged through the time I spend with my family.
How much of your time is dedicated to research versus clinic? Was it a personal choice or a coincidence?
The research interest is a "vocation" more than a choice, and it is what pushes me and my work further every day.
I spend 3 days in the clinic and the others in the lab doing translational research. In Naples we are lucky enough to have a very equipped lab. I have focused my research on combined targeted drugs to hit different pathways active in colon and lung cancer. Moreover, we are trying to identify new predictive markers in colorectal cancer. My experience in Barcelona is still helping me a lot in my current activities, specifically the work done in the pathology unit focusing on pharmacodynamic studies with targeted agents.
You mentioned an experience in Barcelona… As a matter of fact you won an ESMO fellowship in 2004 and had the chance to spend one year at the Vall d'Hebron University Hospital in Barcelona and do research on the effects of the mTOR inhibitor everolimus on advanced solid tumours. How would you judge that experience? Did it change your career and your life, professionally and personally? Is there any long-term effect that is still 'alive' today, after 7 years?
I am proud to have been the first ESMO fellow at Vall d'Hebron, at that time chaired by Prof Baselga. It was a wonderful experience: I carried out a project with everolimus, which was investigated in a phase I trial, and I was also involved in other phase I and III studies. I learnt a lot about the clinical research procedures, something very important for me, because in Italy we do not perform so many phase I trials. Noteworthy when I returned to my home country, I indeed worked on a phase I study in collaboration with Vall d'Hebron…
This experience has brought about more added-value ventures, such as research collaborations still ongoing today, joint scientific publications and much more. Last but not least, this has enriched me personally as I am still in contact with all my friends in Barcelona.
I strongly recommend young oncologists to try and take the chance of an ESMO fellowship, be it in clinical or translational research, because it's a unique and fundamental opportunity to open your mind and to build a solid career.
Where do you see yourself in 5 years? And what would you like to receive from ESMO over this period?
I look forward to reinforcing my oncology network in Europe. I hope to further improve my academic career and to be more involved in my favourite research fields. I also strongly wish to continue to give my contribution to the ESMO Young Oncologists Committee and other ESMO working groups.
In 5 years I will no longer be considered a Young Oncologist according to the age limit, but I certainly wish to focus my commitment on the educational activities developed by ESMO, with the ultimate objective to ensure a homogeneous knowledge in oncology throughout Europe, which lays at the foundation of a better future for cancer research and cancer patients.