ESMO Booth and Members' Lounge
Drop by and see us on the ESMO Booth at ECC 2013, or if you're an ESMO member, take advantage of the facilities in the ESMO Members' Lounge.
ESMO Booth
Location: Exhibition hall. Booth no. 3450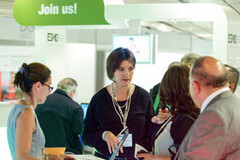 Want to learn more about what ESMO can do for you? Visit the ESMO Society Booth where you will find information about the society: from membership through to our premium range of scientific and educational meetings and individual products and services including the opportunity for E-Learning and demonstrations of other available resources.
Booth highlights
Discover our educational resources
Join ESMO or renew your membership
Take your picture in the ESMO photo booth and share it with your friends and colleagues
Booth opening hours
| Date | Time |
| --- | --- |
| Saturday 28 September | 09:30-16:30 |
| Sunday 29 September | 09:30-16:30 |
| Monday 30 September | 09:30-16:30 |
ESMO Members' Lounge
Location: ECCO stand & member societies lounges area. Entrance of hall C. booth C01:11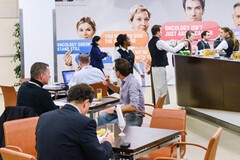 The ESMO Members' Lounge has been designed to provide ESMO members with an exclusive area to relax in between sessions, chat with other members of the ESMO community and access your email. Membership staff will be on hand to cater to your membership needs!
To enter the lounge your badges will be scanned by a hostess. New members or members who do not have the ESMO member ribbon on their badge, can obtain the ribbon at the membership services counter to avoid having to be checked again.
Facilities
Working area: 16 laptops and four printers
Lounge area: relax in between scientific sessions and meetings
Catering: grab a snack over lunchtime, or stop by for a hot or cold drink during the day
Literature area: discover the latest ESMO publications
Membership services desk: renew your membership, update your myESMO profile, ask questions or receive copies of the latest ESMO publications
What's new at ESMO? Let us show you!
Demos by ESMO Staff Medical Oncologist Dr Svetlana Jezdic, on our new Skin Toxicity Portal, Tumour Knowledge Portal and latest developments on OncologyPRO.
Schedule (subject to modifications, see updated times in the lounge):
Sunday 29 Sep: 15:00-16:30
Monday 30 Sep: 09:30-11:30
Tuesday 1 Oct: 10:00-11:30
Lounge opening hours
| Date | Time |
| --- | --- |
| Friday 27 September | 08:00-19:00 |
| Saturday 28 September | 08:00-18:00 |
| Sunday 29 September | 08:00-18:00 |
| Monday 30 September | 08:00-18:00 |
| Tuesday 1 October | 08:00-12:00 |