ESMO Preceptorships: Testimonials
Are you thinking of applying to take part in an ESMO Preceptorship meeting? Previous participants share their thoughts and experiences...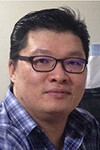 "This preceptorship meeting provided me with comprehensive topics and multidisciplinary expertise to improve the benefits of our patients' treatments. Our daily practice will surely adopt the most recent recommendations by ESMO to achieve better results and quality of life of our patients. The experience has been superb and beyond expectations. I am very excited about learning and discussing issues with the experts. I sincerely thank the Committee and especially ESMO to make this happen."
Juli Jamnasi, Indonesia
Gastrointestinal Tumours Preceptorship, Singapore, October 2016

"This event helped me on my research project on Master Cells and Molecular Biology. I feel I have been fully equipped to go and face my studies. I have enjoyed many presentations and clinical cases. The course was very well organised and I really appreciated to see professionals working from all angles in order to find breakthroughs in cancer treatments. I especially would like to thank all the staff for the event planning, the cooperation and the good accommodation."
Jenipher Choto, United Kingdom
Immuno-Oncology Preceptorship, Amsterdam, September/October 2016

"This was my second Preceptorship and ESMO has once again surprised me. The most informative part of the course was the discussion of treatment options in triple negative breast cancer and I am sure it will have a positive effect on my daily practice. For young oncologists like me these are precious moments to learn from high level professionals. I would rate the course as excellent."
Narmin Talibova, Azerbaijan
Breast Cancer Preceptorship, Lisbon, September 2016

"The Lisbon Breast Cancer Preceptorship was an important experience for my professional life. I found every moment worthwhile. From now on I will look in a new light the disease and the treatment options. I would like to say thank you to ESMO for giving me the opportunity to be a participant and to attend these refined activities. Colleagues and experts from all over the world were open to share their experience and offer excellent advices in daily practice."
Emoke Palyi-Kiss, Romania
Breast Cancer Preceptorship, Lisbon, September 2016

"I appreciated the great, open and welcoming atmosphere I found at this very well organised meeting! I gained new knowledge about molecular profiles in colorectal cancer and I could acquire a better overview of new trials. I think that the background knowledge I have obtained will help me in making better treatment decisions. In addition, the speakers were very engaging and gave great lectures."
Bodil Engelmann, Denmark
Colorectal Cancer Preceptorship, Prague, July 2016

"This was my first preceptorship: I can say that this type of educational events is very beneficial for young oncologists. This course included the presentation of the newly published ESMO Consensus guidelines which helped me to better understand the strategy I should follow with my patients with Metastatic Cancer. I appreciated the support of ESMO, the well organised sessions and also the high calibre Faculty members."
Ahmed Ramadan, Denmark
Colorectal Cancer Preceptorship, Prague, July 2016

"This meeting was amazing, really useful and exciting for several reasons: good quality of the programme and speakers, networking with colleagues and experts from different countries/institutions and, last but not least, excellent location, organization and kindness of all the staff. I believe that what I learnt by participating made me more confident in my knowledge and will guide me in my future studies."
Cinzia Solinas, Belgium
Immuno-Oncology Preceptorship, Siena, July 2016

"I would rate this experience as excellent! Much better and more informative than any other conference on prostate cancer I have ever attended. The comprehensive nature of the course, covering all aspects of prostate cancer management, in addition to its interactivity, created a perfect match. I would definitively like to be part of other Preceptorships in the future."
Alok Gupta, India
Prostate Cancer Preceptorship, Prague, June 2016

"It has been a "full immersion event" allowing me to get familiar with advances and standards of care in management of gastric cancer. I particularly enjoyed the possibility to talk with the speakers during the discussion time and the breaks. I also loved the clinical cases discussion because some of them were really challenging and gave me the opportunity to check what I've learned in the first day and revise my approach according to the presentations!"
Dorota Nowakowska, Poland
Gastric Cancer Preceptorship, Prague, June 2016

"This has been a wonderful experience. This was my first ESMO conference and I was absolutely impressed by the Faculty members, the content of their presentations and the interesting modes of delivery. In addition to that, the relaxed atmosphere of the meeting was perfect to learn about improving oncology care with evidence based medicine."
John Tabiri Abebrese, Belarus
Gastric Cancer Preceptorship, Prague, June 2016

"I had an excellent overview of current evidence in Colorectal Cancer research that will impact my present practice helping me making better decisions and giving me more confidence in defining treatment strategies. This course was a great opportunity for me since I am still at the beginning of my clinical practice: for this reason, I could not share a significant experience but I felt confidant to ask questions and to interact with the experts in this friendly environment."
Maria João Silva, Portugal
Colorectal Cancer Preceptorship, Valencia, May 2016

"It was an excellent experience! A great opportunity for trainees to get a brilliant overview of relevant topics on management of Colorectal Cancer as well as an insight into practices in different countries and last but not least, the chance to meet other trainees from across Europe. I also appreciate the opportunity to listen to experts in the field and speak directly with them".
Alexa Childs, United Kingdom
Colorectal Cancer Preceptorship, Valencia, May 2016

"An enriching experience I would recommend to everyone! I found this preceptorship on lung cancer very educational and well organised – a good balance between the update on recent studies and the clinical practice approach. I am sure some of the latest data from clinical trials will be of benefit to my daily practice."
Giulia Buzzati, Italy
Lung Cancer Preceptorship, Manchester, February 2016

"I would like to say thank you very much to ESMO for the great organisation of the preceptorships, the warm welcoming and the hard work you are doing for us. I would leave a very positive feedback on the previous course of ESMO, the Gastric Cancer Preceptorship in Brussels. I must say that the sessions were with no doubt of a very high quality and interesting, the speakers were very open to discussions. As far as the organisation was concerned, I would have no comment, excellent venue, housing and very accessible location from Europe."
Andra Piciu, Romania
Gastric Cancer Preceptorship, Brussels, September 2015

"I found that ESMO Preceptorship on gastric cancer was a rewarding experience that I would definitely recommend to anyone who are in training. It helps to learn, share knowledge and better understand oncology from different points of view"
Carmen Herrero, Spain
Gastric Cancer Preceptorship, Brussels, September 2015

"The Prague Immuno-oncology Preceptorship was a great success and I feel privileged to have been involved with this with my colleague Olivier Michelin. We welcomed sixty young oncologists from all over the world (Australia, India, Vietnam, Lebanon, Ukraine, and Europe). The faculty was made up of international experts from a broad range of tumour-types who shared a common interest in immuno-oncology and an enthusiasm for education and research. The programme left plenty of time for discussion and indeed it was these interactions that were key to the success of the Preceptorship. All delegates submitted a case for discussion and five were selected for presentation. These were of a very high standard and represented a broad range of disease-types and challenging questions, congratulations to the presenters.
Immuno-oncology is changing how we treat cancer patients. It will be our young colleagues who have to develop and deliver the promise of this treatment approach. I learnt a lot at this meeting and I feel the attendees did as well. Congratulations to ESMO for organising and supporting such a worthwhile educational event."
Paul Lorigan, UK
Co-Chair ESMO Preceptorship on Immuno-Oncology, Prague, October 2015
"As a junior ESMO member, I am very appreciative of the ongoing investment and support ESMO provides me. Experiences like the ESMO preceptorship, not only empower our medical career development but also provides the framewor to reach our full potential as oncologists, both clinical and in research."
Gilberto Morgan, Sweden

"Words cannot fully express how much I appreciate the chance ESMO gave me as an young oncologist to attend a preceptorship meeting. I had the opportunity to improve my knowledge and to meet and discuss with top oncologists around the Europe. After the meeting I felt one step up in my career."
Lika Katselashvili, Georgia
Prostate Cancer Preceptorship, Prague, April 2015

"I always find all the ESMO faculties, staff and participants very warm and welcoming to discussions and suggestions during and after meetings. I recently participated in the Preceptorship Meeting on Prostate Cancer and I found every moment worthwhile, just like previous ESMO Meetings. I am especially thankful to ESMO for their generous support in the form of travel grants which enable young oncologists to attend these highly refined educational activities, which will have a tangible impact in sharpening and shaping their oncology career."
Surendra Pal Chaudhary, India
Prostate Cancer Preceptorship, Prague, April 2015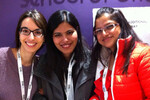 "Sara Valpione, from Italy found that the preceptorship was a great experience, with a professional and friendly atmosphere. "The sessions were interactive with ample discussions with The Christie faculty and participants" said Madiha Kanwal from China. Sunishtha Yadav from India highlighted that such meetings are very important for Clinical/Medical Oncologists and Scientists/Researchers alike: "The meeting focused on both translational research and the medical implementation. Furthermore, this provides a platform for networking and vital exchange of knowledge"."
From left: Sara Valpione, Italy; Madiha Kanwal, China and Sunishtha Bhatia, India
Immunotherapy of Cancer Preceptorship, January 2015