ESMO 2014: Member Activities and Experience
As an ESMO member, going to the annual ESMO congress is a unique experience, starting with the fact that members get discounted registration fees and free access to the congress webcasts.
Visit the ESMO Members Lounge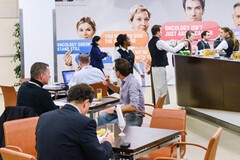 Opening hours: Friday to Monday 08:00-18:00 and Tuesday 08:00-12:00
Our exclusive "members only" area, the ESMO Members' Lounge, will be at your disposal for the duration of the congress. The Lounge (located in Hall 10) has been designed to provide ESMO members with an exclusive area to get away from the crowd, offering a relaxed environment for you to chat with other members of the ESMO community, access your email and relax in-between sessions and simply recharge your batteries.
The ESMO Membership Team will be on hand to cater to all your membership needs! And before you leave, don't forget to pick up your copies of new ESMO publications.
New this year: ESMO Booth and Membership Services Centre in one spot
Opening hours: Saturday to Monday 08:30-17:00 daily
Located in the exhibition hall (booth S1/S2), this is the place to drop by, both if you are not already a member and want to join - and if you are a new member looking to find out how to make the most of your membership. Come and meet our staff if you want to learn more about what ESMO can do for you. Get information about the society: from membership through to our premium range of scientific and educational meetings, individual products and services including the opportunity for E-Learning and demonstrations of other resources, e.g. OncologyPRO and the Tumour Portal.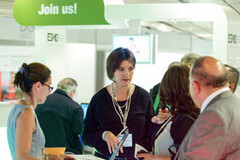 Don't miss out on the opportunity to see for yourself the value of ESMO Membership and join the growing European community of medical oncologists.
The booth is also the place (in addition to the ESMO Members' Lounge) where existing members can renew their membership, check their profiles and pick up some of the latest publications, to which membership entitles them. Outside of exhibition hours, members can benefit from these services in the ESMO Members' Lounge or at the dedicated counters in the registration area.
In the Society Village surrounding the ESMO Booth and Service Centre, ESMO is honoured to host several National Oncology Societies, where you can meet representatives and learn about national activities.
New this year: Membership in the Registration area
Opening hours: Thursday 10:00-18:00, Friday 08:00-18:00, Saturday to Monday 07:30-17:30 and Tuesday 07:30-13:00
Outside of the exhibition opening hours, ESMO staff are available to respond to your membership queries – in the Members' Lounge but also at the dedicated Membership counters in the registration area. Members can register on-site here at a preferential fee, and it is also possible to make other member transactions.
Be recognised as an ESMO Member
All ESMO members registered for the congress and in good standing will have ESMO Member printed on their badge. This gives you direct access to the ESMO Members' Lounge – no verification needed! If your member ribbon is missing come and see us at the Membership counters in the registration area or on the ESMO Booth and Membership Services Centre.
Attend the annual General Assembly
All ESMO members are invited to attend the annual General Assembly of the Society on Friday 26 September from 17:00-18:30 in the Palma Auditorium.
Missed a session or want to see it again?
Access to congress webcasts and other congress resources is included in the registration fee for ESMO members – accessible via our knowledge portal OncologyPRO.