ESMO 2014: Transportation Pass
All registered delegates will receive a 5-day Zone A travel pass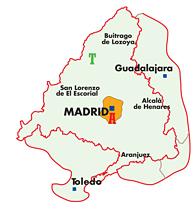 The pass allows delegates to travel in Madrid for the duration of the congress, this includes:
Underground: All Metro lines within the zone. Airport surcharge included
Urban Buses: All EMT bus routes. Except Airport Express
Suburban trains: All RENFE suburban trains within the zone
Light rail: ML1
Delegates should complete the passenger identification number on the back of the ticket (from Identification Card, Passport, etc).
Madrid Metro System
The closest metro to the congress venue is Campo de las Naciones station on Line 8, the station exit is at the South Entrance of the venue. Line 8 connects the venue with the city centre and the different terminals of Barajas International Airport.
Important Travel Information: Saturday & Sunday
Beatification of Alvaro del Portillo and Thanksgiving Mass
As many as 100,000 visitors are expected to attend the Beatification of Alvaro del Portillo (Saturday 27 September) and the Thanksgiving Mass (Sunday 28 September), therefore public transportation in Madrid will be busy.
One of the closest metro stations to the area where the beatification and mass will take place is Campo de las Naciones, this is also the metro station for the IFEMA: Madrid Feria (venue for ESMO 2014)
Both events commence at 12:00. However access is from 08:00 onwards. Currently, it is hard to say how much additional time you should allow to travel to ESMO 2014
There may be buses taking attendees of the beatification and mass from outside the metro station. Congress delegates SHOULD NOT board theses buses, they will NOT be going to the congress venue! The venue is a short walk away and will be clearly signposted
Further information will be communicated to all congress delegates during the event
Download the Madrid Metro App for Android, iPhone and Blackberry
The app can be used both on and offline use in English, Spanish, French, German and Simplified Chinese. It includes a journey planner, traffic alerts and details of each line.