ESMO Young Oncologists Corner
Opportunities for ESMO Young Oncologists in 2015
Whether you are in training or a fully-qualified oncology specialist, ESMO offers young oncologists a wealth of educational courses, fellowships and workshops where you can refine your skills and gain access to the latest developments in your field.
ESMO Fellowship programme
Boost your career and broaden your horizons with an ESMO Fellowship! Not too sure how to proceed with your application? Watch this presentation on how to write a successful fellowship grant application.

Floriana Morgillo from Italy, who was awarded an ESMO translational reseach fellowship says:
"The translational research fellowship gave me the opportunity to complete my research in my field and grow as an independent researcher. I had the opportunity to meet international scientists, to present my data at international conferences and to share my knowledge. Having the opportunity to do this fellowship represented a step forward in career development."
Read Floriana's full report and see the presentation about her fellowship
Preceptorship courses
ESMO Preceptorships take place throughout the year in Europe and Asia and cover a range of topics. Check out which courses are currently open for applications, from this page you can also access webcasts previous preceptorship courses.
During the Preceptorship meeting on immunotherapy of cancer held at the Christie in Manchester (January 2015), we asked three attendees what they though about the experience: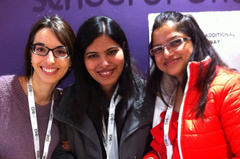 Sara Valpione, from Italy found that the preceptorship was a great experience, with a professional and friendly atmosphere. "The sessions were interactive with ample discussions with The Christie faculty and participants" said Madiha Kanwal from China. Sunishtha Yadav from India highlighted that such meetings are very important for Clinical/Medical Oncologists and Scientists/Researchers alike: "The meeting focused on both translational research and the medical implementation. Furthermore, this provides a platform for networking and vital exchange of knowledge"
Courses
Clinical Trial Workshops
Forthcoming workshops include the 2015 ECCO-AACR-EORTC-ESMO Flims Workshop; Flims, Switzerland, 20-26 June 2015. Applications closed: 9 February 2015.
ESMO Academy 2015
Oxford, UK; 28-30 August 2015
If you are planning to sit the ESMO Examination in 2015 then the ESMO Academy will be especially interesting for you! The purpose of this highly interactive meeting is to give a general but in-depth update about the major topics in medical oncology. Plan ahead to make sure you register for both the Exam and the Academy in order to get a good deal.
2nd ESO-ESMO Eastern Europe and Balkan Region Masterclass in Medical Oncology
Bratislava, Slovakia: 3–8 July 2015
This residential course features a programme designed for medical and clinical oncologists wishing to improve their skills, or those who are preparing for the ESMO or their national board exam. The programme will cover all major topics of ESMO-ASCO curriculum on medical oncology. Find out more about the course.
Travel grants for ESMO conferences
It is possible for ESMO Young Oncologists to attend some of the ESMO conferences by simply applying for a travel grant. You will be required to submit a letter of introduction and motivation as well as a short CV, by a defined deadline. At ESMO conferences to which you can submit abstracts, you can alos apply for a travel grant at the time of your abstract submission. Find all the details under the Conference that interest you.
Young Oncologists: test your knowledge! The latest 'Image of the Month' is now online