ESMO Young Oncologists Corner
ESMO Young Oncologist Committee proudly presents: the ESMO 2014 Congress Young Oncologists Track
As in previous years these sessions in the scientific programme of the ESMO congress, is planned by young oncologists for young oncologists and packed with useful information especially relevant to YOs.
See the full programme here Get the most out of ESMO 2014
Fellowship winners and the best ESMO examinee will be awarded at the closure of the YO Special Session focusing on Fellowship. This year the session also features two previous fellowship award winners who won a competition to present their project – join us for this session to be inspired if you are considering applying for an ESMO fellowship yourself. Here is a glimpse of what you can expect from this session.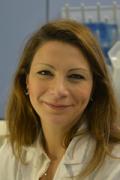 Floriana Morgillo, Italy
Project title: Mechanisms of acquired resistance to anti growth factor receptor agents
"The translational research fellowship gave me the opportunity to complete my research in my field and grow as an independent researcher. I had the opportunity to meet international scientists, to present my data at international conferences and to share my knowledge. Having the opportunity to do this fellowship represented a step forward in career development."
Hatem Azim, Belgium
Project title: Genomic Profiling of breast cancer diagnosed during pregnancy
"My path is a very good example of how an ESMO Fellowship can really provide career-changing opportunities. I combined the two-year period of my ESMO translational research fellowship with other projects in the same domain. I incorporated these projects into a PhD and obtained the degree, one year after finishing the fellowship. I have since been involved in various committees and panels, and have now become a scientific director of the breast cancer research unit that welcomed me as a fellow"
The very popular YO Breakfast sessions will this year give you practical advise to deal with press, and give you tips to find the right balance both in terms of work-life and the doctor-patient relationship. Remember to arrive early to chat with your peers over a coffee and a croissant!
For the YO Masterclass, we are collaborating this year with the EACR (European Association for Cancer Reasearch) to focus on the integration of basic science into clinical research.
The highly interactive Vesalius Talk has become an institution in itself as part of the YO Track – three key opinion leaders will give advise and discuss with the audience on how to pave the path to a successful career in oncology - this is also a great opportunity to network over the cocktail following the talk.
Young Oncologists: test your knowledge! The latest 'Image of the Month' is now online