Sophie Postel-Vinay
Young Oncologists Committee member
Address
Institut Gustave Roussy
Villejuif
Country

France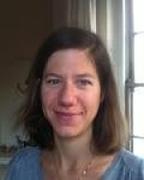 ESMO: Tell us a bit about your medical studies and your current employment
Sophie: I am currently doing a PhD at the Institute of Cancer Research, London, on DNA repair in non-small cell lung cancer. This is a collaborative work with the Institut Gustave Roussy, France.
What is your main area of interest?
I am particularly interested in early phase clinical trials and translational research.
Could you please tell us why you became a medical oncologist?
I was particularly attracted by this medical speciality allying strong human relationships with biological and fundamental research challenges.
What does your involvement with ESMO and the Young Oncologists Committee (YOC) mean to you?
ESMO creates wonderful training and networking opportunities for young oncologists across Europe, and the YOC should help supporting and encouraging such opportunities both at a national as well as European level for working together and providing high quality cancer care.
Do you have some good advice you would like to share with your international colleagues?
Join ESMO and don't be afraid of taking the most of the opportunities it is offering to you: enjoy your "young oncologist" time to meet other colleagues and move to foreign countries to learn as much as you can from differences.