Nikita Volkov
Young Oncologists Committee member
Address
Diagnostic and Treatment Centre
International Institute of Biological Systems Sergey Berezin
Saint Petersburg
Country

Russian Federation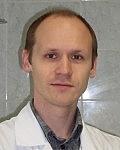 ESMO: Tell us a bit about your current activities
Nikita: I am a medical oncologist interested in clinical and translational research. I am currently employed as head of the oncology department at a private oncology clinic, which is committed to provide a high-level cancer care in accordance with European standards. Most of my daily practice is concerned with cancer chemotherapy and patient care. I deal with various malignant diseases (including breast, lung, GI, bone, soft tissue and many others). Additionally I place high emphasis on cancer molecular mechanisms research, since as I see it the future of cancer chemotherapy lies in this field. I am involved in the first young oncologists society in Russia named North-West Journal Club.
Where did you do your medical studies and specialty training?
I graduated in general medicine in 2005 from the I.P. Pavlov State Medical University in Saint-Petersburg where I also did student and junior research in the areas of pathophysiology and Molecular-genetic Technologies. Towards the end of my studies I went for two month-long training courses at the IARC in Lyon, France, one on molecular genetic technologies and the other on cell culturing.
I then went on to do residency in oncology from 2005-2007 at the N.N. Petrov Research Institute of Oncology in Saint-Petersburg. I was in the department of bone marrow transplantation and biotherapy (mainly specialised in chemotherapy). Following I did a PhD course from 2007-2010 in the same department, where my research work was aimed at searching for molecular markers of chemotherapy response in gastric cancer which can be valid for incorporation into clinical decision-making, particularly in chemotherapy regimen choice.
What areyour plans for the future?
My intentions are to expand my knowledge in the field of oncology , in particular by adopting experience from European countries, in order to improve the level of medical care provided to my patients. Also I hope to improve my knowledge in clinical and translational research so that I can contribute the development of these areas of science in my country.
What does your involvement with ESMO and the Young Oncologists Committee (YOC) mean to you?
For me it is a great opportunity to be involved in European professional oncology network and to promote the integration of my country in this network by gathering Russian young oncologists to join the activities of our foreign colleagues.
Do you have some good advice you would like to share with your international colleagues?
Continue learning – anytime, anywhere! Take the advantages provided by ESMO. Networking and collaboration is the best way to future developments.