Leticia De Mattos-Arruda
Young Oncologists Committee member
Address
Vall d´Hebron University Hospital
Barcelona
Country

Spain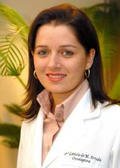 ESMO: Tell us a bit about your medical studies and current employment.
Leticia: I completed my medical education and Medical Oncology Residency in my home-town, Belo Horizonte in Brazil. I have been working at the Breast Cancer Centre and Drug Development Unit of Vall d'Hebron University Hospital in Barcelona, Spain since 2009 as a clinical research fellow (running cutting-edge clinical trials). From 2010-2012, I have also been involved with the ESMO Translational Research Fellowship, with the focus on circulating biomarkers.
What is your main area of interest?
I am very interested in clinical and translational research in breast cancer. I would like to understand how we can fight intra-tumour genetic heterogeneity and drug resistance, and I would like also to keep studying circulating biomarkers. Currently I am running clinical trials and working at the Gene Expression and Cancer Lab at the Vall d'Hebron Institute of Oncology.
Could you tell us why you chose to become a medical oncologist?
Oncology is a wonderful speciality with challenges in both science and patient care. Every discovery is a great achievement.
What does your involvement with ESMO and the Young Oncologists Committee (YOC) mean to you?
The ESMO-YOC is an excellent channel for communication and medical education among young oncologists throughout Europe and other continents.
What are your plans for your future career?
As for my future, I want to pursue a career in academic oncology, combining clinical trials and translational research.
Do you have some good advice you would like to share with your international colleagues?
Network, share experiences and create collaborative projects. Participate in the activities of YOC, including the Journal Club, educational events and special sessions at ESMO Conference. Apply for an opportunity of fellowship or visit in another country. While in training or after, play to your strengths and have fun with what you are doing.