Giannis Mountzios
Young Oncologists Committee member
Address
University of Athens School of Medicine
Department of Medical Oncology and Translational Research
Athens
Country

Greece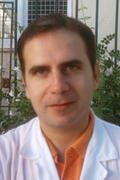 Dr Giannis Mountzios (MD, MSc, PhD) was born in Larissa, Greece, in 1974. He obtained his Medical Degree (MD) from the Aristotle University of Thessaloniki in 1998 with a scholarship from the Greek Ministry of Education and graduated from the Hellenic Military Medical Academy the same year. He completed his residency in Internal Medicine at the 251 Air force General Hospital of Athens and in Medical Oncology at the University of Athens School of Medicine, "Alexandra" University Hospital.
He then obtained a Master (MSc) in Translational and Clinical Research in Oncology from the Institut Gustave-Roussy and the University Paris XI (Paris-Sud), France, in 2007 and became board-specified in Medical Oncology in 2009.
In 2010 he obtained his PhD in Medical Oncology from the University of Athens School of Medicine.
Dr Mountzios is currently working as a consultant Medical Oncologist at the Department of Medical Oncology in the Air force General Hospital in Athens.
Dr Mountzios has received fellowships from the American Society of Clinical Oncology (ASCO), the European Society for Medical Oncology (ESMO) and the Hellenic Society for Medical Oncology (HESMO).
He is a member of the Board of Directors of HESMO and Chair of the HESMO young medical oncologists committee.
Dr Giannis Mountzios is also currently a member of the ESMO Young Oncologists Committee, and we have asked him to tell us a bit about his involvement in this area and his tips for developing a productive career in medical oncology:
ESMO: Could you tell us why you chose to become a medical oncologist?
Giannis Moutzios: I care for patients with cancer and I am also very attracted by the broad clinical and basic research activities that oncology offers to scientists.
What does your involvement with ESMO and the Young Oncologists Committee (YOC) mean to you?
Improving the scientific quality and the level of care to cancer patients in Europe can only be achieved through international communication and collaboration. The national cancer societies of Europe need to work together in the war against cancer. Working with the young Medical Oncologists in Europe provides the perfect platform to create this international network for the future generations.
What are your plans for the future?
I intend to expand my scientific, academic and clinical skills through a number of clinical and research activities in Greece and abroad.
Do you have some good advice you would like to share with your international colleagues?
Start from zero, work hard and try to find the job position that best suits your career plans. Don't hesitate to apply for educational activities and grants, work harder, learn and offer assistance.