Young Oncologists Track
An important task of the Young Oncologists Committee (YOC), is to create the Young Oncologists Track for the ESMO Congress – a series of educational sessions designed by young oncologists for young oncologists.
The educational sessions cover topics that are relevant to young oncologists in their daily practice and/or research activities. Young Oncologists Track sessions are highly popular and well attended. Not only do attendees acquire a deeper knowledge on key aspects, but the sessions also provide attendees with a platform for networking with other oncology professionals.
Young Oncologists at ECC 2013 – track and mentoring sessions

Find out what awaits you in Amsterdam in September – use the searchable advance programme (select 'young oncologist' in the 'Tracks' drop-down list) or download the latest version of the programme here.
ESMO Young Oncologist Committee Members are involved in the YO Track – see the open access sessions here
Highlights from the ESMO 2012 Congress Young Oncologists Track

The Young Oncologists Track during ESMO 2012 was a resounding success with participants from Europe and beyond.
Young Oncologists Masterclass - Clinical trial protocol development
(Friday, 28 September 2012 14:00-17:00)
Chaired by Margaret Hutka (YOC Flims representative) and YOC chair Michalis Karamouzis. Presentations, reviewing issues around trial design in the era of targeted agents and biomarkers:
Click on the presentation title to view the webcast on OncologyPRO (ESMO member login required)
Vesalius Talk and Cocktail - Experience meets youth in career development
(Friday, 28 September 2012, 17:15-18:30)
The ESMO tradition of hosting a Vesalius Talk and Cocktail during the congress is an excellent opportunity for a direct discussion between young oncologists and key opinion leaders in the field of medical oncology. This year's Vesalius Talk staged Bernard Escudier (Institut Gustave-Roussy, France) and Martin Gore (Institute of Cancer Research, Sutton, UK) who shared their experiences from their careers, in a highly interactive session which included a lively debate and thought provoking comments from the audience and experts alike.

The talk, which was followed by a cocktail, was also an excellent opportunity to network for the attendees. "Contacts made at such social events have the potential to expose young oncologists to a whole new raft of opportunities" said YOC member Matthias Preusser after the session.
Young Oncologists Breakfast Sessions
(Saturday, 29 September, Sunday 30 September and Monday 1 October 2012, 8:00-8:45)
Practical, personal and professional development tips for young oncologists – sessions for the early birds! The breakfast sessions not only offer a coffee and croissant but are proven to be extremely useful for delegates to learn about tried and tested approaches to developing skills that they can adopt for improving their own academic careers. Sessions were delivered in a relaxed and friendly environment with the opportunity to asks questions and enter in to discussion.
Click on the presentation title to view the webcast on OncologyPRO (ESMO member login required)
Young Oncologists Forum - Health economics
(Monday, 1 October 2012, 9:00-10:30)
This session, moderated by Prof. Martin Gore and Dr. Margaret Hutka, both from UK, looked at how to manage the costs of emerging therapies in oncology. The presentations proved particularly thought-provoking, and gave participants a clearer picture of the evolving economic landscape that they will have to work with.
Young Oncologists Special Session
(Monday, 1 October 2012 14.15-15:45)
Fellowships in Europe: Educational Opportunities for European Young Medical Oncologists. An ESMO – AERIO – AIOM – HESMO – SEOM YO Session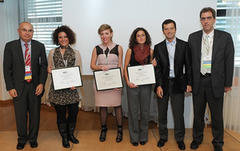 This session, which was moderated by J. Tabernero, Spain and M. Karamouzis, Greece, Chairs of ESMO's Fellowship & Award Committee and Young Oncologists Committee respectively, gave participants a clear overview on all there is to know about the various aspects of educational fellowships, from a short observer visit in a clinical service setting to long research fellowship in academic institutions. Speakers all of whom are past ESMO fellows, gave feedback on their experiences and recommendations on how to apply and best prepare for a fellowship. The session closed with the annual Fellowship Awards Ceremony.
The broad concept of educational fellowships: From a short observer visit in a clinical service setting to long research fellowship in academic institutions ( J.C. Soria, France)
Where and how can I find the information I need? Practical tips from a former fellow (G. Mountzios, Greece)
Funding opportunities in Europe: The ESMO fellowship programme ( F. Cappuzzo, Italy)
How to write a successful fellowship grant application (R. Salazar, Spain)
The ESMO fellowship programme: Past and future (J. Tabernero, Spain)
Access all presentations from this session as webcasts on OncologyPRO (ESMO member login required)
Also available on YouTube and iTunesU without membership restrictions
Poster presentation: Non-Small Cell Lung Cancer European Survey
First findings from the European-wide survey in incompletely resected (R1) early stage non-small cell lung cancer, conducted by the YOC and presented by YOC project leader and chair-elect Raffaele Califano. Find out more here...
* Access to the ESMO 2012 webcasts is limited to ESMO members and congress attendees who purchased webcast access