ECC 2013 Young Oncologist Activities
Multidisciplinary networking during ECC 2013
The multidisciplinary European Cancer Congress in Amsterdam hosted the first joint networking event for Young Oncologists, grouping together Flims Alumni Club (FAC), the ESSO Young Surgeons Alumni Club (EYSAC), ESTRO, and ESMO Young Oncologists.
The dinner, which took place at the Bar Italia in downtown Amsterdam on the Sunday evening, was part of the programme also including the FAC Society Session and Workshop on the same day of the congress.
About 70 congress attendees from the partnering societies met to make new connections across borders and specialties, in a relaxed atmosphere.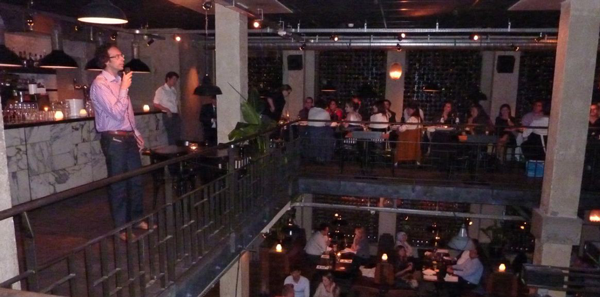 Want to take part in the ESMO Young Oncologist networking event next year during ESMO 2014 in Madrid? – watch this space and sign up via myESMO (my personal info) to receive the Young Oncologist e-news to make sure you will get to know when the registration starts
Read the report and see the photos from the ESMO networking evening last year in Vienna
National Young Oncologist group leaders met in Amsterdam
A true Pan-European collaboration is one of the most important goals of the Young Oncologist Committee. With this in view, an evening meeting gathering the Young Oncologist Committee and representatives from national YO groups across Europe was organised in the ESMO Members' Lounge during ECC 2013.
The attendees learned about the organisations and activities of the one-year old Romanian 'Group of Radiation and Medical Oncology Residents' and the newly created 'Turkish Young Oncologists Group'. A recent survey to all European Young Oncologist groups shows common ground for collaboration, especially in the areas of training and continued education. This and other priorities were also discussed during the meeting.