Jean-Yves Douillard
ESMO Educational Committee Chair
Function
ESMO Executive Board

Term
2014 – 2015
Address
University of Nantes Medical School
Nantes
Country

France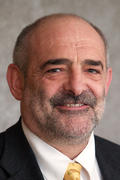 Jean-Yves Douillard, MD, PhD, is Professor of Medical Oncology at the Integrated Centres of Oncology R. Gauducheau and University of Nantes Medical School, France.
Dr. Douillard received his medical training at the University of Nantes Medical School in Nantes, France. During his training, he developed an interest in tumour immunology and obtained a fellowship from the French Ministry of Health and the US National Institutes of Health John E. Fogarty International Center for Advanced Study in the Health Sciences. He spent 2 years as a visiting fellow at the National Cancer Institute's Laboratory of Immunodiagnosis, where he was involved in the production and characterisation of monoclonal antibodies against natural killer cells. Dr. Douillard returned to France in 1981 and became an Assistant Professor in Medical Oncology at the University of Nantes, where he specialised in lung cancer, gastrointestinal oncology, and biologic therapies, including the use of monoclonal antibodies in human tumours. He later worked for 2 years as a visiting scientist at the FDA's Center for Biologics Evaluation and Research at NIH, where he was involved in monoclonal antibody therapy. Dr. Douillard received his PhD in 1993.
Dr. Douillard was Head of the Department of Medical Oncology at the Centre R. Gauducheau (2000-2009) and then Director of Clinical and Translational Research (2009-2011). He is presently Senior Staff Physician.
Dr. Douillard has participated in clinical trials mostly for lung cancer and GI tumours, and has investigated numerous new drugs, including vinorelbine, irinotecan, docetaxel, paclitaxel, and gemcitabine. He also has investigated targeted therapies such as gefitinib, erlotinib, farnesyltransferase inhibitors, Raf kinases inhibitors, antiangiogenic molecules, and monoclonal antibodies.
Dr. Douillard has published numerous articles in various scientific journals, including The Lancet, The New England Journal of Medicine, Journal of Clinical Oncology, The Lancet Oncology, British Journal of Cancer, Cancer Research, European Journal of Cancer, Annals of Oncology, and the Journal of Thoracic Oncology. He was a member of the Editorial Boards of the Journal of Clinical Oncology and Bulletin du Cancer. He currently serves on the Editorial Board of Hybridoma and is the International Editor of Clinical Colorectal Cancer. Dr. Douillard is a member of the American Society of Clinical Oncology (ASCO), European Society for Medical Oncology (ESMO) where he is presently Chairman of the Educational Committee, International Association for the Study of Lung Cancer (IASLC), American Association for Cancer Research (AACR), and Intergroupe Francophone de Cancérologie Thoracique (IFCT).